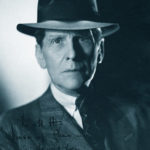 In 1948, Thomas Whittemore (1871 – 1950) and Paul A. Underwood, from the Byzantine Institute of America and the Dumbarton Oaks Center for Byzantine Studies, sponsored a programme for restoration of the Chora Church in Istanbul. Thomas Whittemore was a scholar, archaeologist and the founder of the Byzantine Institute of America. He was born in Cambridge, Massachusetts in 1871. His good personal relationship with Mustafa Kemal Ataturk, founder and the first president of the Turkish Republic, enabled him to gain permission from the Turkish government to start the preservation of the Hagia Sophia mosaics in 1931.
Thomas Whitemore and Byzantium
On June 12, 1929, Thomas Whittemore hosted a dinner for several of his friends at a hotel in Istanbul, Turkey. It is thought that the framework for the Byzantine Institute was established at this gathering.

">

Whittemore had long been concerned for the welfare of noteworthy sites in nations plagued by political instability, such as Russia and Bulgaria. He likely began to devise plans for the Byzantine Institute during the height of his relief efforts earlier in the decade.

Interestingly, the Byzantine Institute did not immediately set sail for Byzantium after becoming fully operational in 1930. Rather, during its formative period, the organization first moved operations to Egypt—to a region intimately tied to Whittemore's early career as an amateur archaeologist with the Egypt Exploration Society. Working along the Red Sea from 1930 to early 1931, Whittemore and the Byzantine Institute conducted studies of wall paintings at the Coptic Monasteries of Saints Anthony and Paul,motion picture film that would prove quite useful in generating publicity and funds to further the Institute's mission. Meanwhile, Whittemore was also in the midst of negotiations with the Turkish government concerning the restoration and conservation of Hagia Sophia in Istanbul. Permission was finally obtained in December 1931.